Binance Coin (BNB) is currently on a downward trend and risks falling below its larger support at 506 US dollars if it continues to do so.
The cryptocurrency market has shed billions of dollars in recent days, with several cryptocurrencies still struggling to make up for their losses. Bitcoin and Ethereum have risen by less than 1% in the last few hours. However, BNB, the third largest cryptocurrency by market capitalisation, is still in the red.
Despite the recent fall in the share price, BNB has performed well over the past year, and several analysts and experts believe it will recover and rise again soon.
🤔 Will be really interesting to watch the performance of $ETH / $MATIC and $ BNB over the next 5 years.

Here is how they performed over the past year btw:$ETH – 1,551%$MATIC – 9,567%$ BNB – 3,124%

— Dave Craige ⚡️ (@davecraige) May 18, 2021
BNB-Price forecast
While BNB showed excellent performance last year, it has underperformed in the short term. Over the past seven days, BNB has fallen by 16%, barely holding above 520 US dollars. The 4-hour chart from BNB/USDT clearly shows that the bears are in control of the market.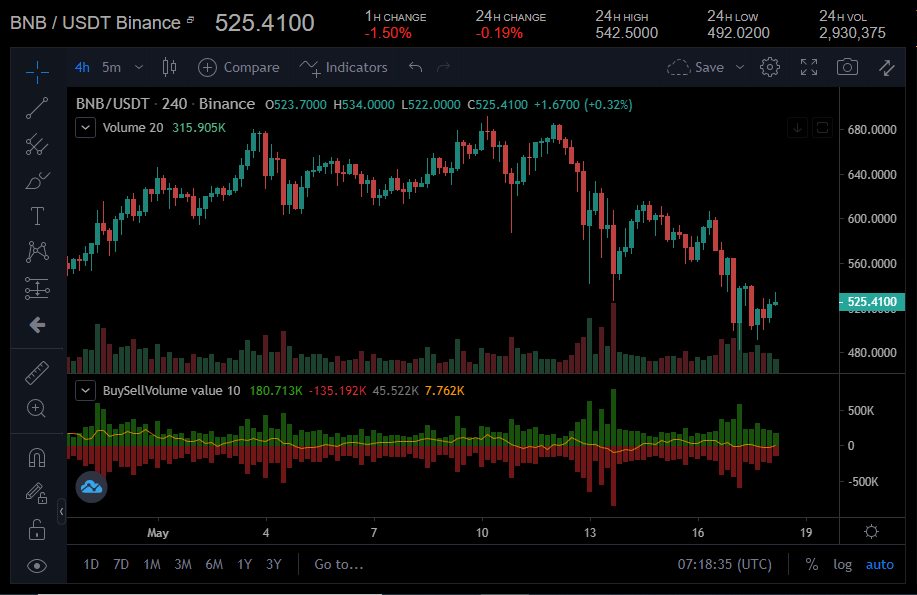 4-Hour chart BNB / USDT. Source: Coinalyze
BNB's 100-day SMA of $ 619 is higher than the current market price. Other technical indicators, including the RSI (40.83) and MACD line, are also in bearish mode. If the current trend continues, BNB could fall below the key support level of 506 US dollars. A sustained bear run could cause BNB to slide below $ 500. However, BNB has established strong support at $ 499 and it may not be too easy for the bears to tear it down.
Binance Coin may need the support of the general market to break out of this bearish trend. If the bulls take control, the BNB/USDT pair could rise above the first major resistance at $ 523. From there, BNB could make a run for the next level of resistance at $ 569. This would make up for the losses of the last few days.