Yesterday, the leading cryptocurrency recovered, but did not manage to crack the resistance at $ 35,000. Thus, the bears were able to regain control and push the price into the area around $ 33,000.
Yesterday, Bitcoin saw a decent price rise, cracking resistance at $ 33,500 and even surging above the $ 34,500 mark. However, the leading cryptocurrency did not manage to expand profits above the level of 35,000.
The BTC / USD pair made a high near $ 34,676 before falling back again. He fell below the support level of $ 34,000 and established himself below his 100-day SMA. He then went below a crucial uptrend line and currently has support near the $ 33,900 mark on the BTC/USD hourly chart.
The Bitcoin price continued to fall, trading at just $ 32,675 in the meantime. The leading cryptocurrency is now correcting losses and trading at over $ 33,000 on most crypto exchanges. The BTC / USD pair is testing the 23.6% Fibonacci retracement level.
The cryptocurrency has struggled to find direction in recent weeks as investors wait for the next market catalyst. Bitcoin is expected to respond modestly to the US inflation data that will be released later in the day.
The inflation numbers have always had an impact on Bitcoin prices, with some analysts seeing this as an ideal hedge against inflation.
BTC Price Forecast
The 4-hour chart of BTC / USD clearly shows that the cryptocurrency is currently recovering from losses. Over the past hour, the crypto currency has gained less than 1%, and if it maintains positive momentum, the first major resistance at $ 33,500 will soon come into view.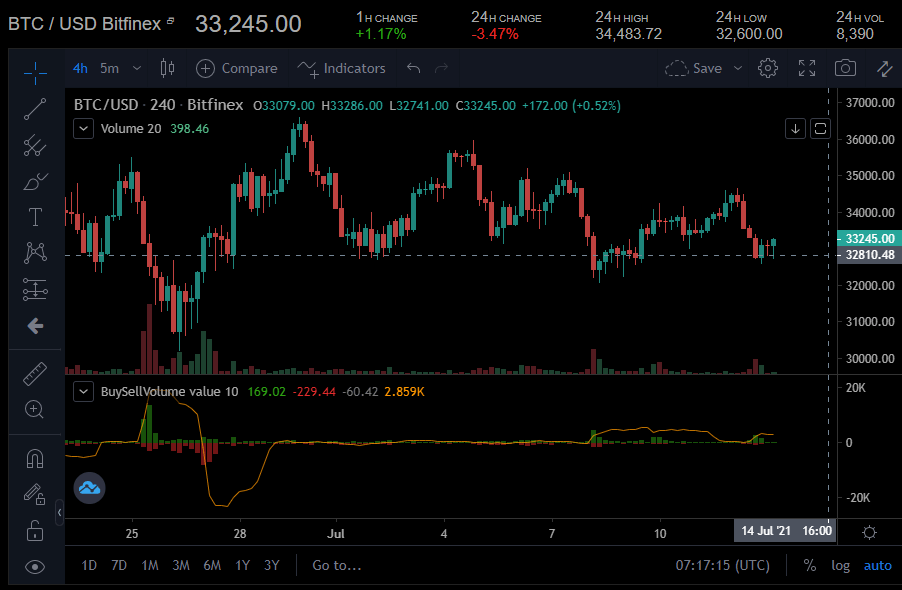 Chart BTC / USD. Source: Coinalyze
The 50% Fibonacci retracement level of the recent decline from $ 34,676 to $ 32,675 is close to the $ 33,600 mark. The main resistance is around $ 34,000. BTC needs to move beyond the $ 34,000 range to avoid further downside in the short term.
However, if Bitcoin does not recover above resistance at $ 33,500 and $ 34,000, there is a risk of a larger decline in the short term. The bulls will be forced to defend the support level around $ 32,650. If the support level is exceeded at $ 32,200, the Bitcoin price could drop below $ 30,000 for the first time in weeks.