The leading cryptocurrency suffered its worst day-to-day slump in more than 14 months yesterday, with most crypto exchanges dropping to $ 30,000 before recovering slightly from losses
The general cryptocurrency market suffered a massive dump yesterday, with Bitcoin falling below $ 40,000 and trading at $ 30,000 on most crypto exchanges.
The sell-off in the market could continue if negative sentiment increases. At the moment, Bitcoin is resisting at $ 50,000, although not so long ago this level was a support area for the leading cryptocurrency.
However, analysts believe that prices could rise again. This is necessary to calm the market after such a massive sell-off, claims Michael Van de Poppe. The market will now consolidate for a while.
Most likely, especially after such a wick, we won't come back to the prices of the actual low for # Bitcoin.

But most likely, we'll also be consolidating for a while, on a higher level.

To make you bored.

And to make the market calm again.

— Michaël van de Poppe (@CryptoMichNL) May 19, 2021
BTC-Price forecast
The 4-hour chart of BTC/USD shows a cryptocurrency that has suffered big losses but is slowly recovering. After falling to a low of $ 30,000 24 hours ago, Bitcoin began to consolidate and its price rose again to around $ 40,000. The BTC / USD pair is currently trying to break the $ 40,000 mark. If successful, it could target its 30-day EMA ($43,530).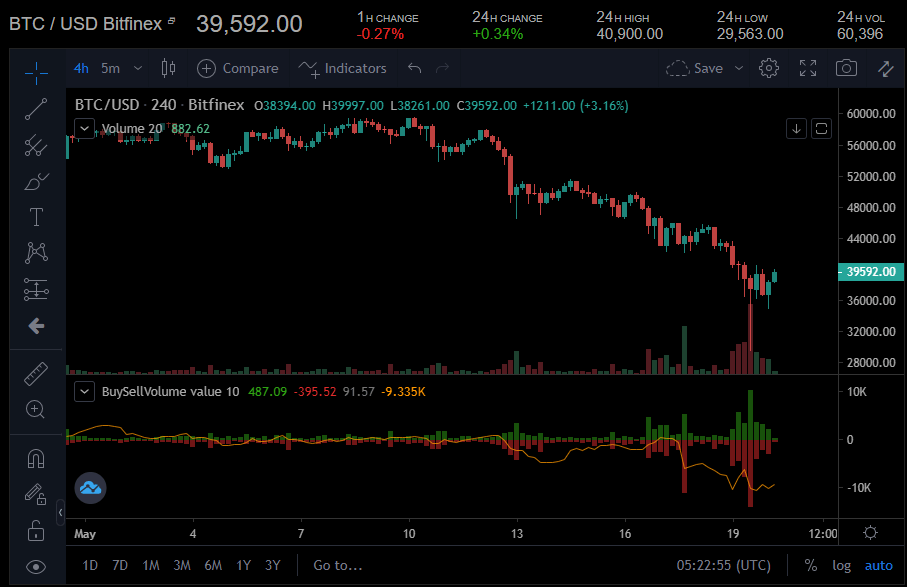 4-Hour chart BTC / USD. Source: Coinalyze
With a rally above this level, BTC could make a fresh run at resistance at $ 46,808. However, given the current bearish mood, Bitcoin may find it difficult to overcome the resistance level at $ 50,000 immediately. The psychological range around $ 50,000 will cause Bitcoin difficulties, as it has provided significant support in the past.
According to Bitcoin's technical indicators, the bearish trend may not be over yet. His MACD and RSI are still in the bearish range. Unless there is a significant increase over the $ 40,000 range, sellers could regain market dominance. In this case, Bitcoin would likely fall below $ 35,000 in the next few hours or days.