The cryptocurrency is still in a bearish cycle, and in the wake of the current decline, Binance Coin could fall below the $ 300 mark
The cryptocurrency market has not performed well over the weekend, and the losses could continue to widen as the week progresses. The Bitcoin price is still just above $ 31,000 and is not capable of rallying above the main resistance of $ 35,000.
Binance Coin (BNB) was one of the biggest losers among the leading cryptocurrencies last week and could see further losses this week. Regulatory pressure on Binance in the UK – and more recently in Italy-could have a negative impact on the BNB rate in the coming hours and days.
BNB Price Forecast
Binance is currently under pressure from regulators in some parts of the world. Since the beginning of the challenges in the UK, the BNB rate has fallen by over 10%. The BNB/USDT 4-hour chart shows that the cryptocurrency is currently in a bearish cycle and could fall even further in the coming hours.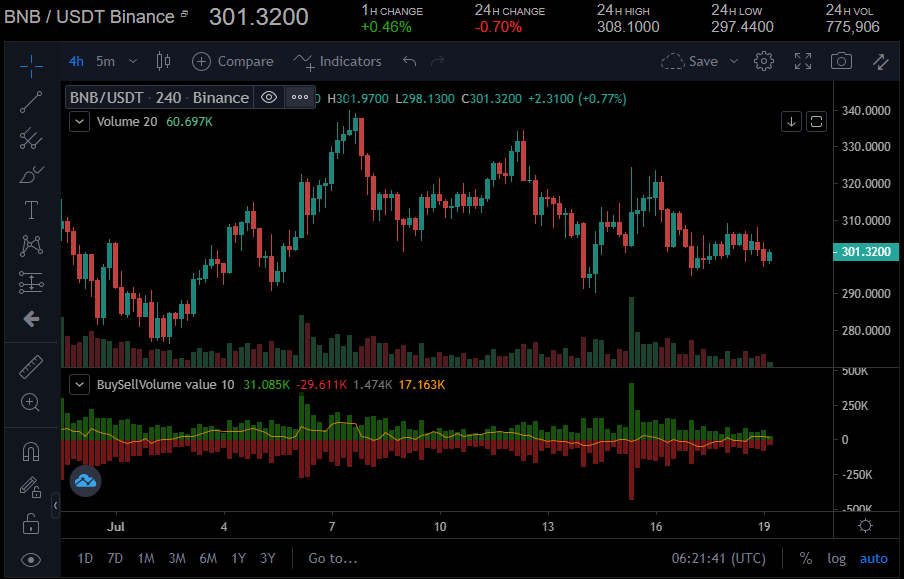 BNB / USDT price table. Source: Coinalyze
The technical indicators such as the MACD and RSI show that BNB is in the red and is likely to remain there until further notice. If the current trend continues, BNB could fall below the support level at $ 300, bringing into focus the first important support at $ 295. Several lower highs have also been recorded, indicating continued downward pressure.
Unless there is a major sell-off in the broader market or Binance comes under renewed pressure, BNB should be able to hold above $ 290 in the next few hours.
Positive news on Binance or the general cryptocurrency market, on the other hand, could be the necessary catalyst to push BNB over the first major resistance at $ 310. However, BNB may find it difficult to rally above $ 322 resistance unless Bitcoin and the broader market make a massive upward move.