Despite the current bear market, Cardano has become the fourth largest cryptocurrency by market capitalization.
The cryptocurrency market has been in a sharp correction since last week, with Bitcoin currently trading at around $ 35,000 per coin. Cardano (ADA) is also underperforming and has lost 39% of its value in the last week.
Nevertheless, ADA managed to box its way up to become the fourth largest cryptocurrency by market capitalization, overtaking Binance Coin (BNB) in the process. The cryptocurrency maintains a slight uptrend and could start a positive trend in the coming hours.
Cardano has achieved some impressive milestones, which makes some experts optimistic about his course performance.
Congrats $ADA holders – 1,000,000 active wallets 🥳✊🚀 pic.twitter.com/OKIyZFgi0s

— Crazy4Cryptos.com (@planet mind body) May 22, 2021
ADA Price Forecast
The 4-hour chart of ADA / USD shows the currency pair in a bull run. After ADA has efficiently cushioned the selling pressure, the price has risen by 5% in the last hour. The cryptocurrency has maintained the support range between $ 1 and $ 1,35 and has been able to penetrate the $ 1,40 range in recent hours.
If ADA maintains this momentum, it could soon overcome the resistance level at $ 1.50. According to the technical indicators, ADA would have the potential to rise above the current bear market. With a sustained bull run, ADA could test the resistances at $ 1.66 and $ 1.80 in the coming hours or days.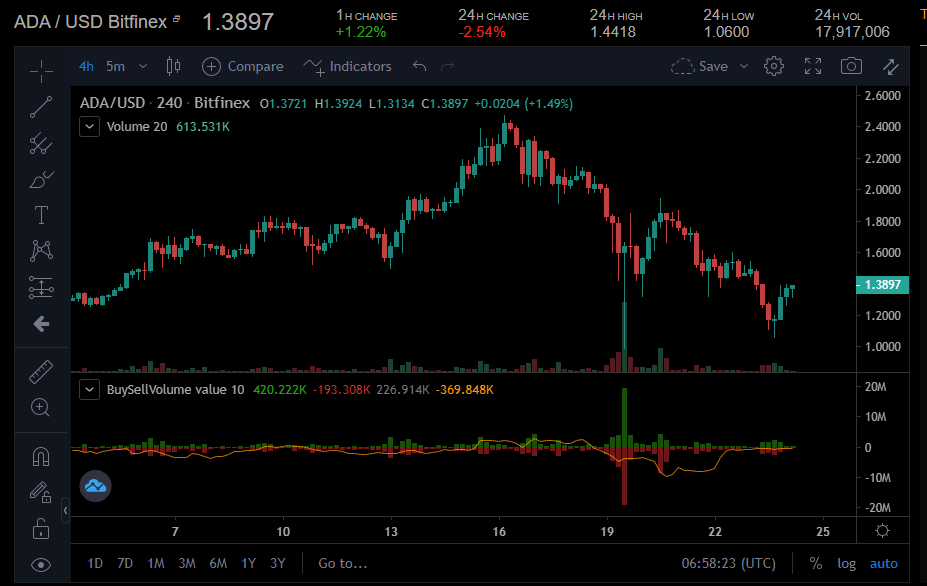 4-Hour Chart ADA / USD. Source: Coinalyze
Both ADA's 100-day SMA ($1.78) and its EMA ($1.66) are in the red. This suggests that bearish sentiment is still in control of the ADA market. If ADA does not manage to increase significantly to overcome the above resistance zones, it will allow buyers to sneak into the market. This could jeopardize support zones at $ 1.35 and $ 1.
Further sell-offs could see ADA slide below $ 1 for the first time in weeks. In this case, ADA could lose the fourth place again.