Dogecoin continues its amazing rally this year and could now target a new all-time high above $ 0.70
Among the top ten cryptocurrencies, Dogecoin performed best yesterday after rising above $ 0.50. Thus, Dogecoin became the fourth-largest Cryptocurrency by market capitalization, surpassing XRP, and USDT.
Having built strong support near $ 0.60, Dogecoin could continue to rise in the coming hours and days to reach a new all-time high. Analysts and crypto experts like Lil Mook are optimistic that Dogecoin could soon rise to $ 1 in its current rally.
By the time @coinbase adds $Doge that bih might be $1 😅🐕 #dogecoin

— Lil Mook (@Lilmook4real) May 5, 2021
DOGE-Price forecast
DOGE/USD's 4-hour chart is one of the most bullish among the top ten cryptocurrencies. The pair have grown enormously in recent years and their technical indicators suggest that this rally could continue even further.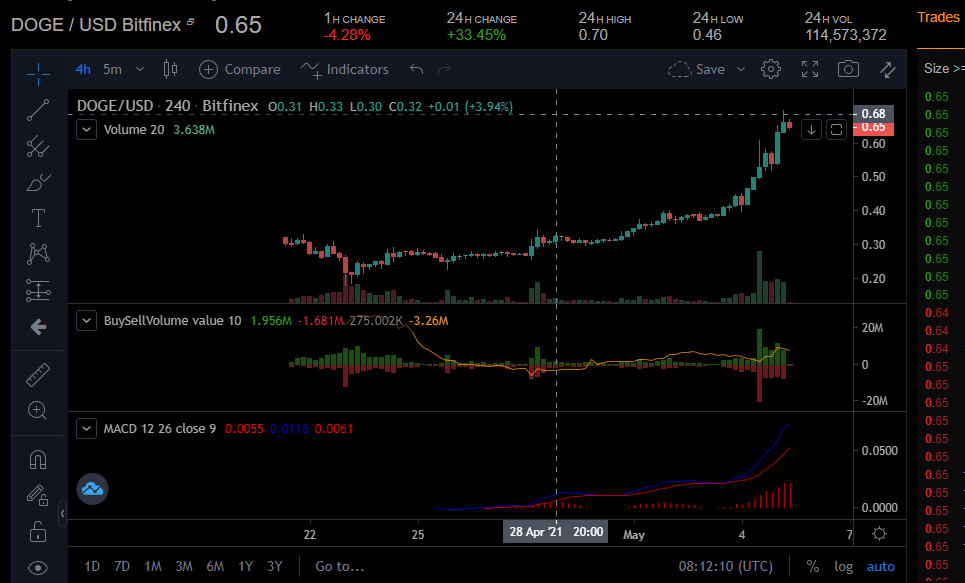 4-Hour Chart DOGE / USD. Source: Coinalyze
If the current trend continues, DOGE could overcome resistance at $ 0.71, setting a new all-time high. In the event of a sustained rally, DOGE could make a run for the next major resistance at $ 0.90, targeting the $ 1 mark. According to the technical indicators, this would be very likely. DOGE's MACD line is in very bullish territory and an RSI of 82.52 indicates that the cryptocurrency is overbought. DOGE's 100-day SMA is currently $ 0.335, which is half the current trading price.
However, if the bulls give up control of the market, the DOGE/USD pair could fall below $ 0.60 and they would have to defend the level of support at $ 0.52. Unless there is a longer wave of sales, DOGE should be able to easily defend the important support at $ 0.40.
DOGE rally due to new quotations
Dogecoin has had a remarkable rally in recent weeks. The Gemini and eToro quotes are the main catalysts behind the current run. Yesterday, Doge was listed on the Gemini crypto exchange, with traders now able to access it through a wide range of fiat currencies including USD, GBP, EUR, CAD, AUD, HKD and SGD.
The social investment platform eToro listed DOGE on Monday and justified this step with the enormous demand from its customers.