EOS has been eyeing the $ 4.00 range in recent days, but the bulls have failed to launch a rally that would have comfortably pushed price above that mark.
The cryptocurrency market is still in a bearish cycle going back to May. Given bear sentiment, Bitcoin is still trading below $ 35,000 and is struggling to overcome the $ 40,000 resistance mark.
EOS was once one of the world's leading cryptocurrencies. However, it has lost this place in recent months as other crypto projects gained acceptance and increased their market capitalization. Now EOS is only in 28th place and threatens to be overtaken by the Shiba Inu token.
Although the State of Wyoming has approved the first EOS-based Decentralized Autonomous Organization (DAO), EOS's poor performance continues. This milestone was not enough for a sustained rally beyond the $ 4 mark.
EOS Price Forecast
The EOS / USD pair had failed to meet a serious challenge a few days ago, reaching the $ 5 mark after hitting the $ 4 mark over the weekend. Wyoming's announcement caused the weekend rally.
Now that EOS is back below the $ 4 mark, the 4-hour chart for EOS / USD indicates that the cryptocurrency could see further losses in the next few hours. If current market conditions persist, bulls would have to defend resistance at $ 3.30 in the coming hours or days.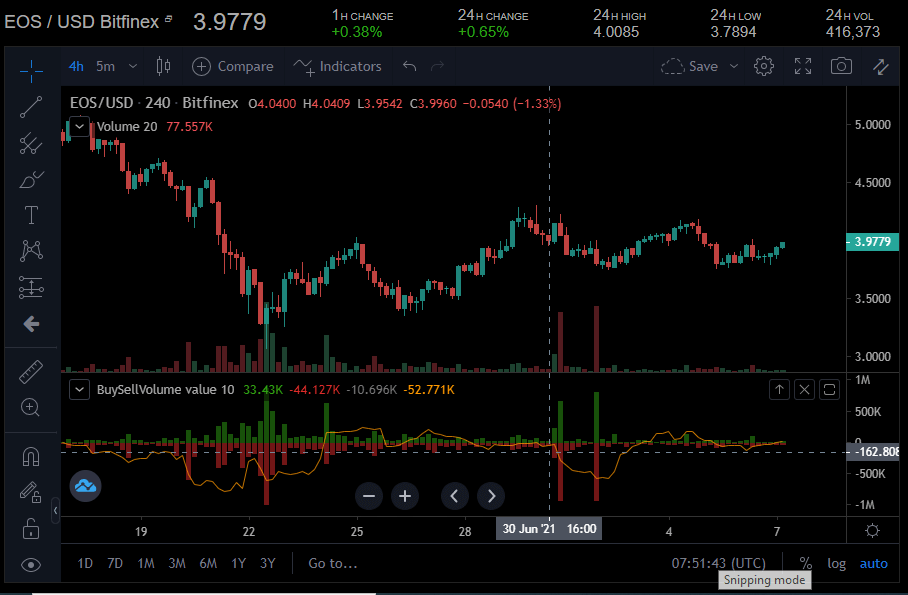 Chart EOS / USD. Source: Coinalyze
At the moment, EOS threatens to slide below its 100-day SMA at $ 3,84 after losing a support level around its 100-day EMA ($4,0558). When EOS falls below the 100-day SMA, the smaller support level at $ 3,59 and the larger one at $ 3,30 come into view.
However, if the bulls regain control of the market, the EOS/USD pair could once again overcome the level of $ 4,00 and try to reach its 7-day high at $ 4,30. With the help of the broader cryptocurrency market, EOS could launch a rally towards the $ 5.