Ethereum (ETH) has suffered massive losses since the start of the week, threatening to fall towards the $ 1700 mark if the recent trend continues
The cryptocurrency market continued its downward trend yesterday, with Bitcoin and other leading currencies suffering massive losses. The price of Ether has fallen by 5.70% in the last 24 hours, trading just above $ 1880.
The losses recorded yesterday followed a fall of 5,17% on Monday. After failing at the first major resistance at $ 2133, Ethereum slid to a late intraday low of $ 1917.40. Since then, he has suffered further losses, losing the important support at $ 1900.
With the cryptocurrency market still in a downtrend, Ether is in danger of losing further levels of support over the next few hours and falling below the $ 1800 mark.
ETH Price Forecast
The 4-hour chart of ETH / USD is currently bearish, suggesting that the second largest cryptocurrency by market capitalization may face further losses. Currently, the pair is trading above its 20-day SMA ($1894,68).
Should the current downtrend continue, then ETH would be forced to defend the next major support around $ 1800. A larger sell – off would focus on the 62% Fibonacci retracement level ($1724). However, ETH is likely to be able to stay away from levels below $ 1800, with the key support level at $ 1838 limiting the downside.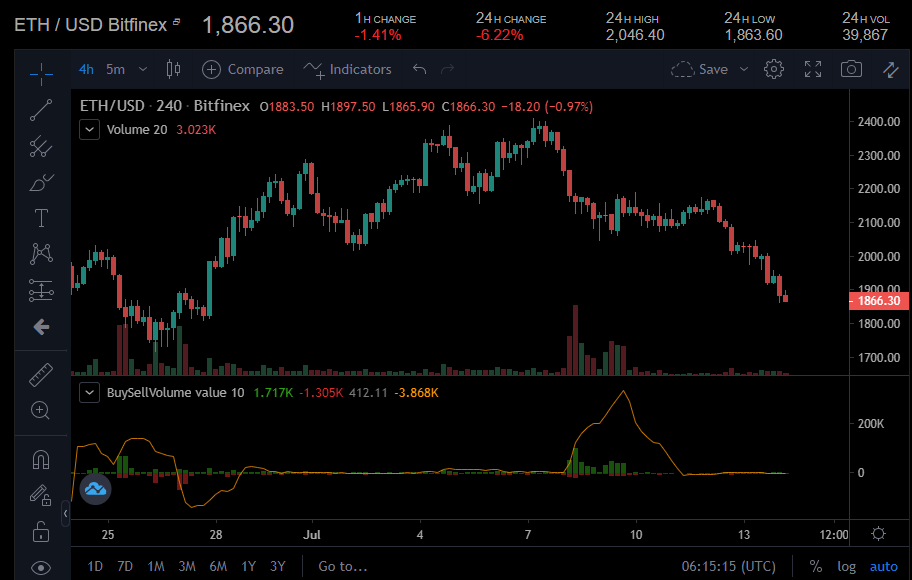 Chart ETH / USD. Source: Coinalyze
However, should the market reverse a trend, ETH could try to overcome the initial resistance at $ 1900. With a sustained rally over the next 24 hours, ETH could overcome the next resistance level at $ 1969 and even climb above the $ 2099 mark.
However, to shake off the current downtrend, the currency would need the support of the broader cryptocurrency market. Even with a sustained rally, yesterday's high of 2047.72 would likely limit any uptrend.