IOTA has dropped more than 10% in the past 24 hours and is struggling to stay above the $ 2 mark in the face of a massive sales surge
The cryptocurrency market is currently again a sea of red numbers. The prices of Bitcoin, Ether, Binance Coin and virtually all other leading cryptocurrencies are currently declining. IOTA is also affected by the market collapse.  The IOTA price has fallen by more than 10% in the last 24 hours.
Despite the massive wave of sales, the IOTA bulls were able to defend the level of support at $ 2 in the last few hours. If the cryptocurrency manages to maintain this level, it could rise back to its weekend rate.
If the bulls regain control of the market, IOTA could resume the uptrend soon.
[SCAN RESULTS – 15m – #USDT PAIR]

Binance top 5 bullish strength
1: $YFII
2: $CKB
3: $COMP
4: $YFI
5: $ WRX

Binance top 5 bullish reversal strength
1: $IOTA
2: $AAVE
3: $ MKR
4: $ALGO
5: $ ANT

— DYOR.net (@DYORCryptoBot) May 11, 2021
IOTA-Price forecast
IOTA's performance over the past few hours is in line with the broader cryptocurrency market. Although the IOTA / USD pair is trading below its 100-day SMA ($2,068), some indicators on the 4-hour chart point to a reversal after yesterday's losses.
The bulls were able to defend the support point at $ 2 and make up for yesterday's losses. IOTA would first have to overcome the 100-day SMA ($2,068) and the next resistance point at $ 2.17. This would give him a real chance of reaching his 7-day high of $ 2.39. However, IOTA needs help from the broader cryptocurrency market to initiate a sustained rally that could bring about such a reversal.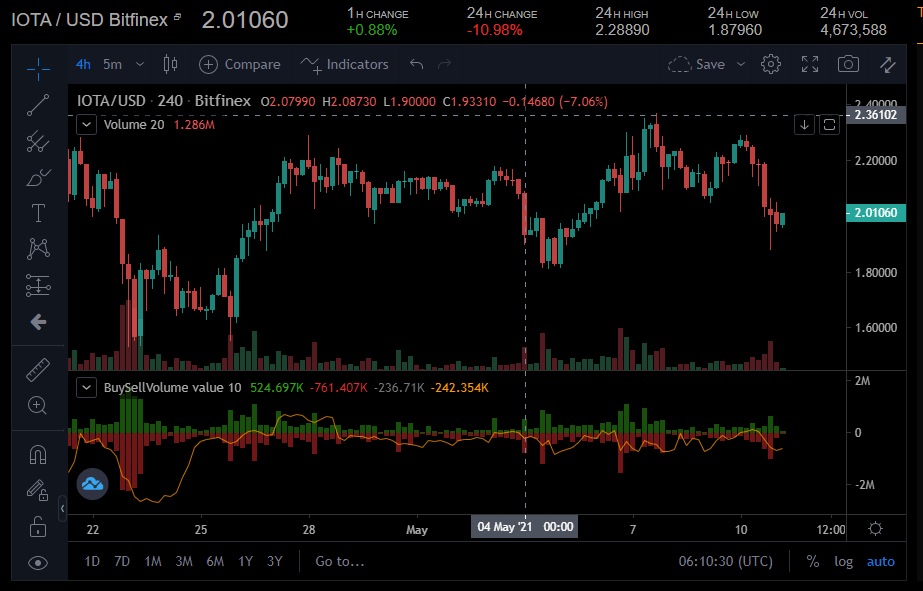 4-Hour chart IOTA / USD. Source: Coinalyze
The MACD line of IOTA has just broken out of the bearish area, which could indicate an upcoming bull run. Its RSI is still below 50, a sign that the bears have not given up control of the market. Given the excitement about IOTA's toll-free transaction network, the cryptocurrency is likely to attract the attention of traders and investors in the coming days and weeks.
If IOTA fails to build on the momentum of the last hour, he could lose the support point at $ 2. This, in turn, could focus on support levels at $ 1.81. With a continuing bear cycle, IOTA could slip to the $ 1.54 mark for the first time since April 26.