Ethereum has risen over 11% in the past 24 hours, made up for its recent losses and could now be heading for its all-time high above $ 2,600
Ether is impressing with a positive performance: in the last 24 hours it has risen by 11% to make up for its recent losses. Ethereum broke through the first major resistance level at $ 2,339 yesterday before falling back below $ 2,200.
Now, however, he has resumed his upward movement, breaking the mark of 2,349 US dollars and even rising above 2,400 US dollars. At the time of this report, ETH is trading at US $ 2,485, having overcome a large resistance level at US $ 2,474.
The analyst "The Crypto Dog" is of the opinion that ETH could reach a new all-time high in the coming days.
I think $ETH sees ATHs in the next 3-4 days.

— The Crypto Dog📈 (@TheCryptoDog) April 25, 2021
ETH Course Forecast
The 4-hour chart from ETH/USD clearly shows that the cryptocurrency is currently in a rally. After the losses at the end of last week, ETH recovered at the weekend and is now trying again to reach its all-time high.
If the current trend continues, ETH / USD could exceed the next major resistance at $ 2,533. A sustained rally could focus on the all-time high ($2,644) and pave the way for ETH to reach a new all-time high.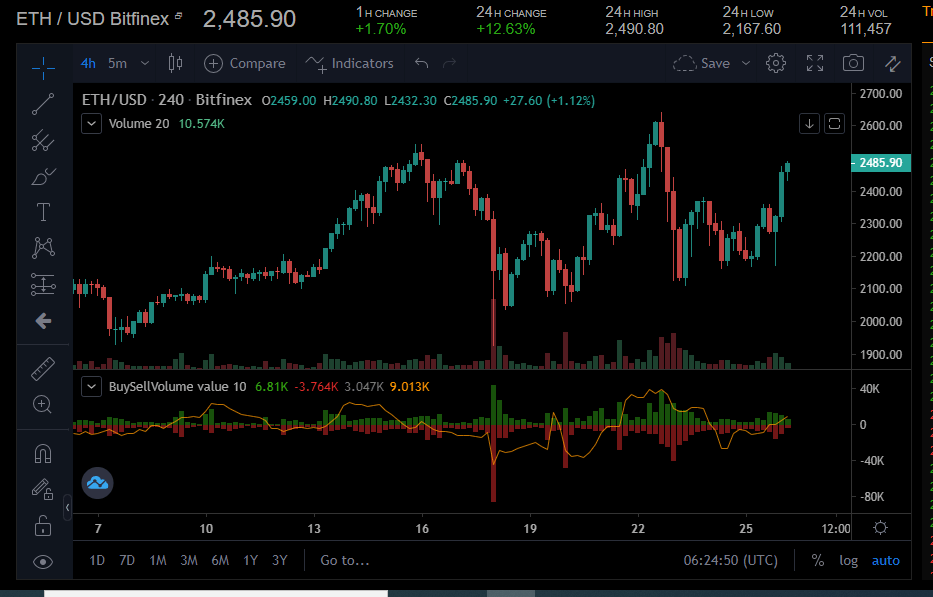 4-Hour chart ETH / USD. Source: Coinalyze
The MACD line is in the bullish area and RSI is approaching 60. ETH is trading well above its 100-day SMA ($2,248), indicating that the cryptocurrency has strong support at the moment.
However, in the event of a slump, the ETH/USD pair could move back towards the support point at $ 2,163. If there is no longer a wave of sales, the cryptocurrency should be able to hold above 2,000 US dollars. Ether has a large support level at $ 2,082, and its 23.6% Fibonacci retracement level of $ 2,041 should limit potential losses.