Chainlink threatens to fall below the $ 20 mark after the cryptocurrency saw a more than 30 percent increase in value over the past week
The crypto market is in a consolidation phase after last week's rally. Bitcoin is hovering around the $ 40,000 mark, while Ether finally crossed the $ 2,500 mark and is expected to reach the $ 2,600 mark soon.
Chainlink (LINK) was among the top performers last week, recording a value increase of over 30 percent in the last seven days. However, there is a risk that LINK will fall below the $ 20 mark due to the declining sentiment in the market.
The medium and long – term prospects for the market remain positive. However, if the downward trends continue, prices could fall in the short term.
LINK Price Forecast
The 4-hour chart of LINK / USD shows that Chainlink is in a bullish trend despite the recent price decline, which is due to the performance of LINK in recent days. Over the past 24 hours, LINK has fallen 3.5 percent, below its weekly and monthly high of $23.90.
Currently, LINK is quoted at $ 22.60. Should the current market trend continue, price could lose some of its gains and fall towards the $ 20 mark. However, the critical support mark at $ 18 would need to be able to limit further downside unless there is an extended sell-off in the market.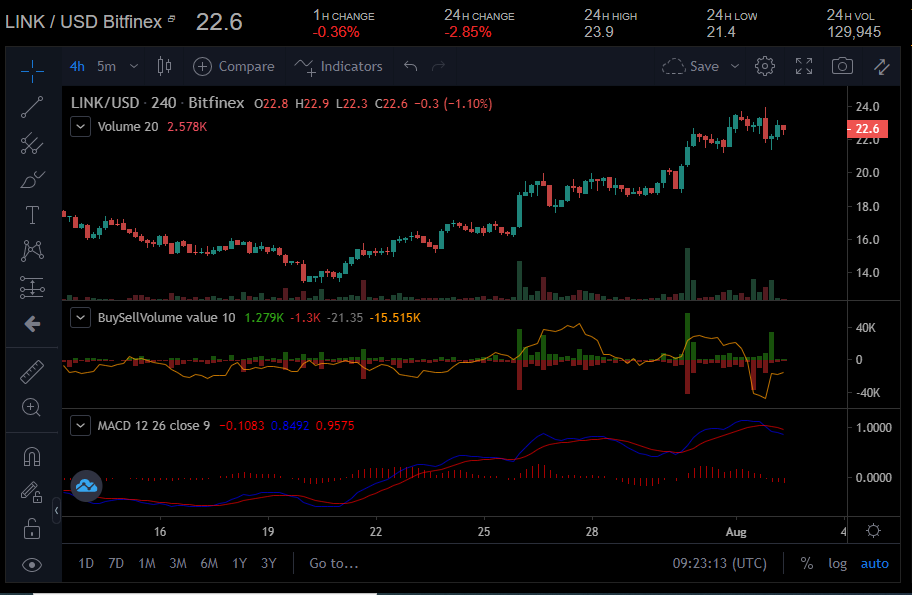 LINK / USD 4-hour chart. Source: Coinalyze
The MACD line is in an uptrend, while LINK is well above its simple 4-hour 100 moving average ($17,69). While RSI is in neutral territory, it is above 50, which indicates that the market will continue to remain bullish.
If the bulls take advantage of this momentum, LINK could continue his rally, surpassing the 30-day high of $ 23,90 and moving towards the $ 25 mark in no time. In the event of an extended recovery period of the broader crypto market, LINK could reach the $ 30 mark for the first time since early June.