Chainlink tries to overcome resistance at $ 40, while the broader market stagnates after recent gains
The broader cryptocurrency market started the week with some gains positive and made up for some losses from last week. However, the rally is now over: Bitcoin and other leading cryptocurrencies have seen slower growth in recent days.
Chainlink also belongs to this category. The 12th largest cryptocurrency by market capitalization has increased by only 0.2% in the last 24 hours. LINK is trading in the $ 35 range and is struggling to overcome strong resistance at $ 40.
For a renewed rally, LINK needs the support of the wider market. Only then could it break through the resistance and record at higher levels.
Chainlink integrates Dusk Network
Although Dusk Network announced its plans to integrate with Chainlink, the cryptocurrency has struggled in the last 24 hours. The integration gives the DeFi ecosystem enhanced data protection capabilities. Dusk will use the data from Chainlink's Oracle network to ensure real privacy in the DeFi area and build secure and trustworthy bridges between the blockchains.
LINK-Price forecast
LINK has been stuck in the $ 35 range in the last few hours, with the bulls trying to overcome the next resistance.
If the trend continues, the bears could regain control, leading to a massive price drop. LINK is currently trading below its 100-day SMA at $ 36.53.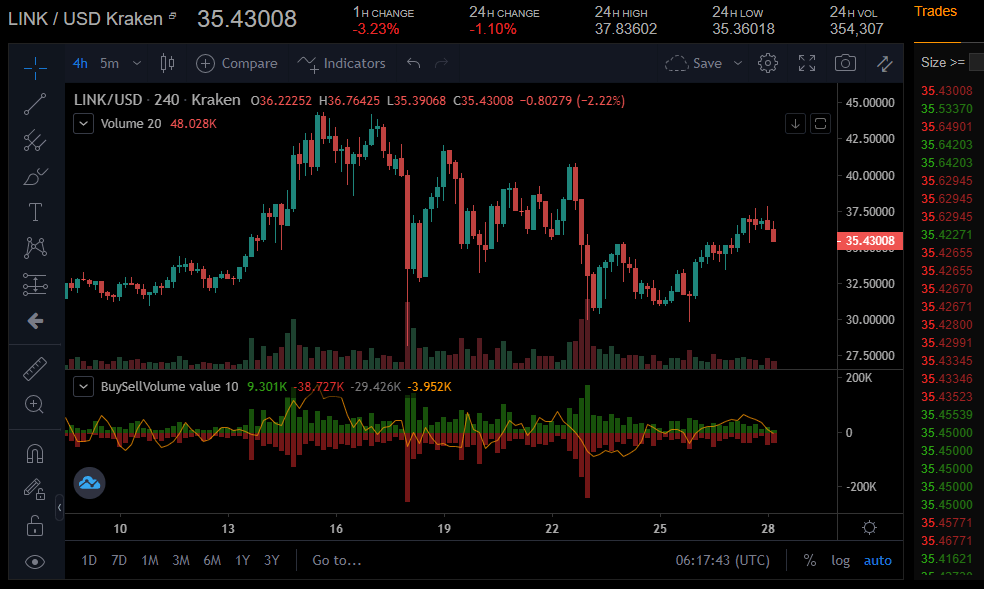 4-Hour Chart LINK / USD. Source: Coinalyze
The MACD line is trying to break out of the bearish range, while an RSI in the neutral range means the market could move in both directions. Unless there is a massive wave of sales, the bulls should be able to defend support at $ 30.
On a breakout, the LINK / USD pair could rise above resistance at $ 40 and move to a new all-time high of $ 45. However, this would require support from the broader cryptocurrency market. However, Bitcoin and other leading altcoins have stagnated in recent hours.