Litecoin has risen over 3% in the last 24 hours, with the rally putting the focus on resistance at $ 134.
Yesterday, Litecoin recorded a poor performance: 0,315 of its value, after falling by 1,45% the day before. Through the bearish performance, Litecoin lost both the first and second major support levels yesterday at 129 and 129 respectively. $ 127.
However, he was able to defend the third key level of support at $ 122, after which it rose to an intraday high of $ 132,39. However, he could not hold this rally and fell again below the $ 130 mark before the close of the day on Wednesday.
Thanks to a good start to Thursday and excellent performance from the broader market, the twelfth largest cryptocurrency could overcome resistance at $ 134 and try to rise to $ 140 by the end of the day.
LTC Price Forecast
The 4-hour chart of the currency pair LTC / USD is currently making a bearish impression, thus resembling the broader cryptocurrency market. LTC is trading above the $ 128 mark and needs to crack the pivot point at $ 129 to focus on the first key resistance level at $ 134.
To surpass Wednesday's high of $ 132.09, Litecoin needs the support of the general cryptocurrency market. With a major rally in the crypto market, Litecoin could overcome the first major resistance level and resistance at $ 135. But that should be rather difficult.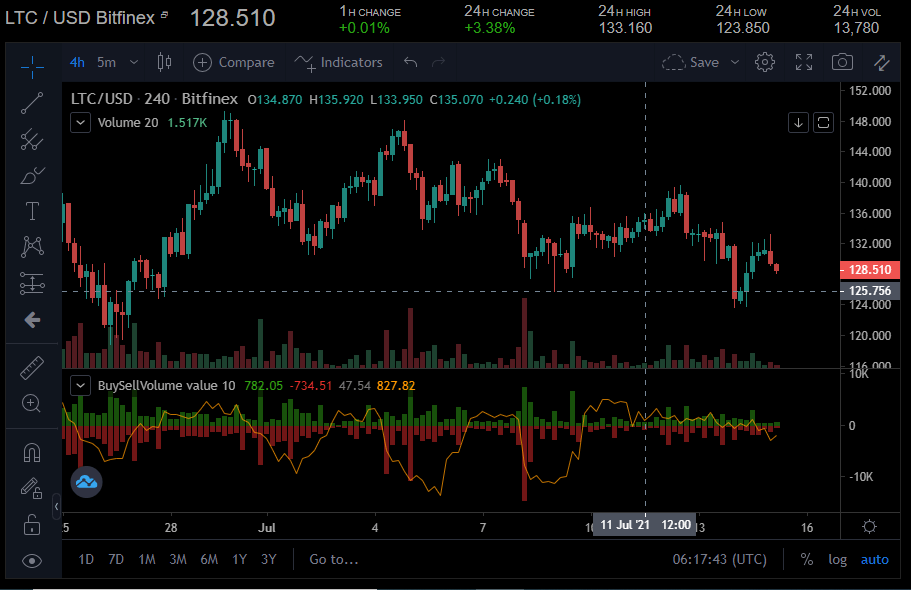 Chart LTC / USD. Source: Coinalyze
With a larger breakout, the LTC / USD pair could test the $ 140 mark, with the second resistance level currently around $ 137.
However, if LTC does not manage to overcome the pivot point at $ 129, the price could fall, which would bring into play the first important level of support at $ 126. Unless there is a major sell-off, however, Litecoin should be able to defend the support level at the $ 120 mark.