Litecoin is targeting the $ 300 mark after another rally in which the cryptocurrency has risen by almost 5% in recent days
Litecoin has risen by almost 5% in the last 24 hours, claiming its place as the tenth largest cryptocurrency by market capitalization. Despite the mixed performance of the broader crypto market, this mini-rally took place.
LTC stayed away from the first major level of support at $ 264 and rose to an intraday peak of $ 299.71 yesterday. There was a pullback, with the cryptocurrency establishing support at $ 287 and trading within that range in the final hours.
LTC is expected to continue rising in the coming days or weeks, in part due to the recent hashrate high for a year.
Litecoin's hashrate is at a one year high. This is bullish for Litecoin! 🚀$LTC 💎🙌 pic.twitter.com/zatrWrSO6p

– Litecoin. Litecoin forever. (@Litecoin forever) May 3, 2021
LTC-Price forecast
The LTC/USD 4-hour chart suggests that the cryptocurrency is in a positive trend that could continue over the next few hours. LTC's MACD line is in the bullish range and LCD is trading relatively well above its 100-day SMA ($258.58).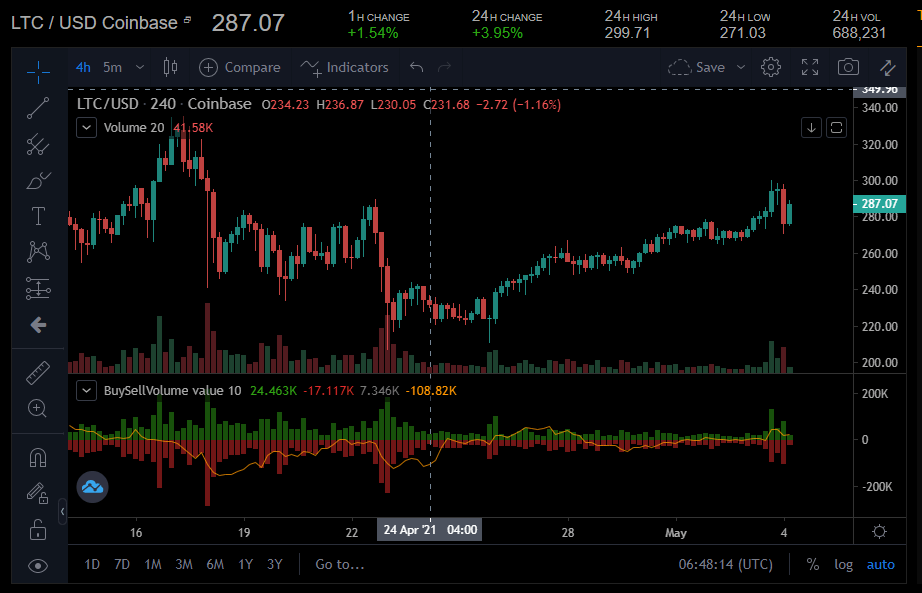 4-Hour chart LTC / USD. Source: Coinalyze
Litecoin must avoid a drop to the $ 287 pivot level in order to make a run for the first major resistance at $ 307. However, support from the general market is needed if Litecoin is to reach and overcome Monday's high of $ 299.71. If the market does not initiate a prolonged rally, Litecoin may find it difficult to overcome the first important point of resistance. In the event of a major breakout, the LTC/USD pair could test resistance at $ 320, with the second major resistance level currently at $ 319.
However, if LTC can't avoid the pivot level at $ 287, its price could fall, bringing into play the first major level of support at $ 276. Without a prolonged wave of sales, Litecoin could easily stay away from levels below $ 270 and the 23.6% Fibonacci retracement level of $ 262. Currently, Litecoin's second major point of support is US $ 257.