The XRP price has fallen more than 10% in the last 24 hours, but is slowly recovering after building strong support above the $ 1.20 mark.
The broader cryptocurrency market has collapsed in recent hours, with most leading cryptocurrencies losing more than 10% of their value. XRP has developed well in recent months. Meanwhile, however, the market has reversed course and pushed the cryptocurrency into bearish divergence.
Despite yesterday's slump, XRP was able to stay away from the $ 1 mark and find support in the $ 1.20 range.
XRP-Price forecast
The 4-hour chart of XRP / USD shows that the cryptocurrency is slowly recovering from its recent losses. XRP has already risen 2% against the US dollar in the past hour. XRP / USD has formed strong support at $ 1.24 and is trading at around $ 1.38 at the time of this report.
If the positive trend continues, XRP could rise to its 100-day SMA at $ 1.50.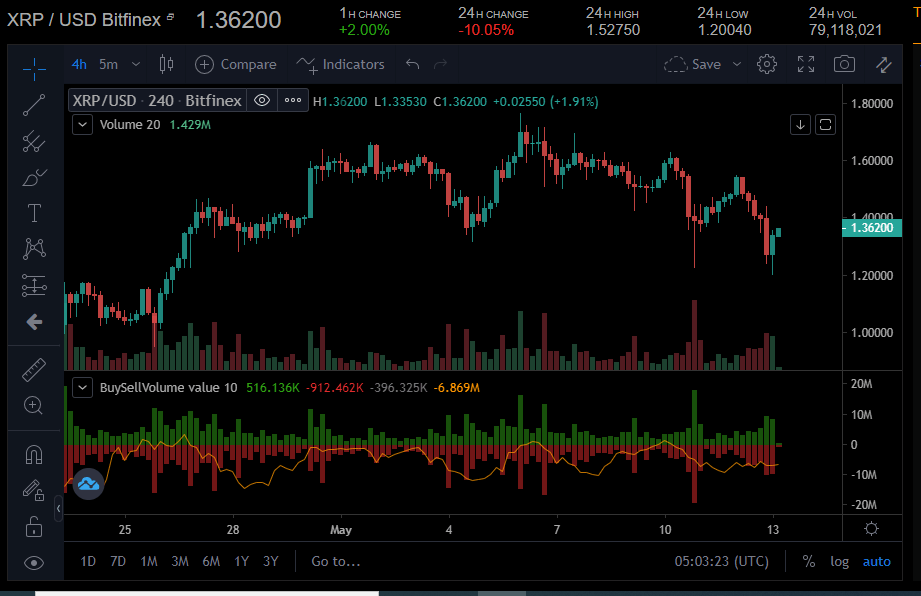 4-Hour chart XRP / USD. Source: Coinalyze
According to important technical indicators such as MACD and RSI, XRP is in the bearish range. Should bearish market sentiment become stronger, XRP could suffer further losses in the coming hours. If price breaks out of the channel, XRP could lose support at $ 1.24.
XRP fans push for acceptance of Tesla
After Elon Musk's tweet, the market collapsed. The company stated that it no longer accepts Bitcoin payments due to the environmental impact of the cryptocurrency. Instead, look now for other more energy-efficient cryptocurrencies. Some XRP enthusiasts are already pushing for the electric car manufacturer to take over XRP on Twitter.