The VET / USD pair is in a downtrend that could continue over the next few hours
The broader cryptocurrency market continues its downward trend, with its total market capitalization falling below the $ 2 trillion mark as a result of the recent sell-off. The Bitcoin price has fallen below the $ 40,000 mark for the first time in months.
VeChain (VET) is also affected by this downtrend, losing more than 17% of its value in the last 24 hours. The huge drop in prices could lead VET to fall as low as $ 0.1, wiping out most of the gains made in recent months.
VET-Price forecast
VET has dropped 18% against the US dollar in the last 24 hours as the broad cryptocurrency market is currently experiencing a massive slump.
Due to this slump, VET's MACD line fell further into the bearish realm. VET is also trading almost 20% below its 100-day SMA ($0.180). For the first time in weeks, VET's 14-day RSI is slipping into the "oversold" range.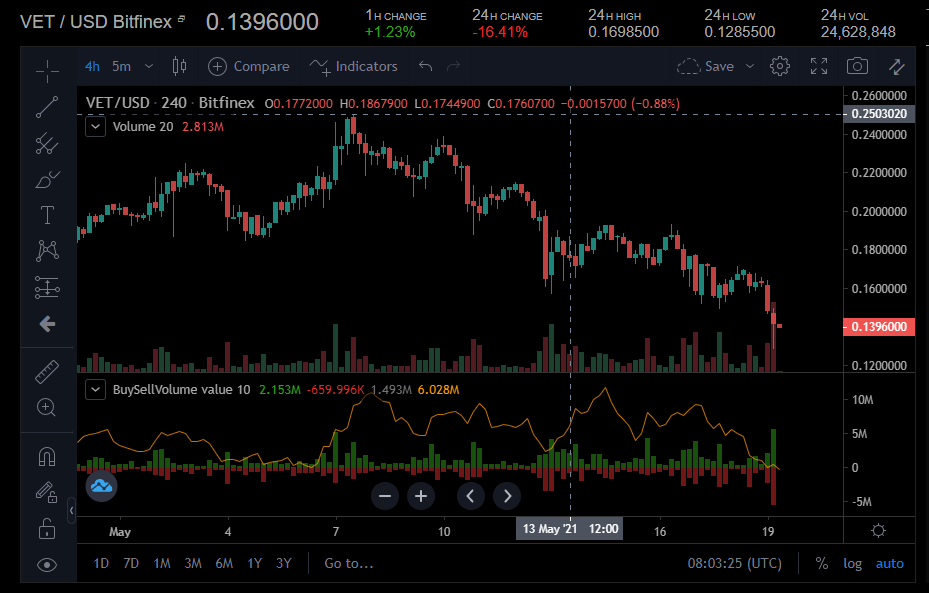 4-Hour Chart VET / USD. Source: Coinalyze
If this bearish trend continues, VET could lose its key support at $ 0.129, paving the way for further declines to its 30-day low at $ 0.127. With further sell-offs, VET could fall below $ 0.120 in the coming days and move towards $ 0.10.
To break out of the recent downturn, VET would need the help of the general crypto market. A rally beyond initial resistance at $ 0.147 could allow VET to make a run at the larger resistance point at $ 0.162. But unless there is a huge rally, the VET / USD pair may find it difficult to reach the resistance level at $ 0.193 in the next few hours.